I've been plowing through books at breakneck speed recently. I still might not make 100 books this year, but I think I'll come close.
The Mayfair Witches books by Anne Rice
As soon as we started talking about going to Louisiana this year, I knew I was going to reread the Mayfair Witches books. It's one of those series I feel compelled to read every few years.
I've read The Witching Hour four times, though at this point I know which parts to skip, (like the gross incest chapters), and the parts not to read around mealtime (descriptions of things found in the attic) Other than those bits, I love the book. I am nerdily obsessed with plotting out the Mayfair Family Tree. I love the detailed descriptions of the Garden District. I love reading about the house renovations. I love love love the historical chapters, and the feeling you get like you're peeling away the layers of an onion as you go deeper into the family's past.
Lasher, on the other hand, is my least favorite in the series. So much rape and torture and horrible miscarriages. But you get to find out the real story behind the ghost that has haunted the Mayfair family for generations.
Taltos was okay. I've just always been a lot more interested in the witchy parts of these books, as opposed to the Taltos.
All three of these were re-reads for me. I didn't realize that there are a few more Mayfair books out there, but they all have tie-ins with Anne Rice's Vampire series, which I've never read. I was left wondering whether to continue on with this series, or to start the Vampire series first. I'm still on the fence, so any advice on that is welcome!
After I finished those, I needed a break from supes. So for "lighter reading" I picked up a book about the Boxer rebellion. Like you do. Thus started my newest history obsession, which I think deserves it's own post. So I'll continue with my regular reading here and save that book for later.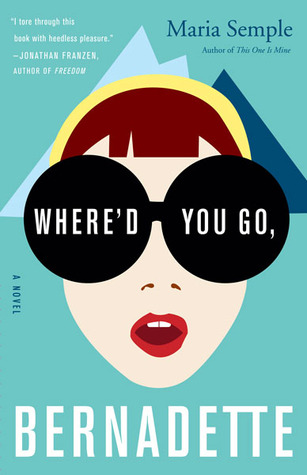 Where'd You Go, Bernadette? by Maria Semple
I've been hearing buzz about Bernadette for awhile now. I was getting a little burnt out on series and ready for a stand-alone book. I really loved the first 3/4 of the book, which is told in the form of emails, receipts, and other electronic correspondence. It felt very clever and fresh. I enjoyed trying to piece together the puzzle that was Bernadette's disappearance. In some places it reminded me of my beloved P.G. Wodehouse. But towards the end I kind of got tired of Genius Bernadette and her Genius Husband and their Genius Offspring. Yes, I get it- they're all smarter, more talented, and richer than us. Let's move on. There were really hilarious parts though, it was a fun satirical look at the lifestyles of the upper middle class (or slightly lower upper class?)
Not my favorite Agatha book. Agatha is in love again (of course), with someone completely unsuitable (as always). He ends up dead and she investigates. This has been the plot for several other Agatha books. I know a lot of fans are getting tired of recycled plots, but I'll keep reading as long as she keeps churning them out. Because the author always throws in little tidbits that keep me wanting more, in this case clues to how Charles really feels about Agatha. And I'm always hoping she'll find a good man in the end…
More posts on Books.